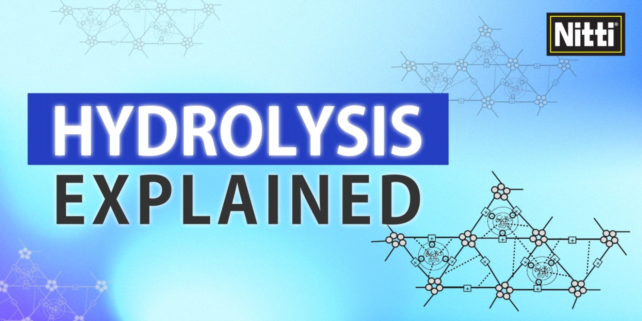 I think one of the most talked about topics in regards to shoes but even so one of the least understood topics.
We, from Nitti, believe in educating the customer so they can make the right decisions on their own and draw their own conclusion whether a shoe is good, poor or overpriced quality.
I will explain here the same as in my webinar:
The types of materials used for soles
The chemical structure of PU
What hydrolysis is
The process of hydrolysis
What influences hydrolysis
Effect of storage conditions on Hydrolysis
I will close with some storage advice to prolong the lifespan of your shoes
Types of materials used for outsoles
With every material having different properties, making it more suitable for different environments, it is crucial to take the right shoe for the specific job. Here I will go into a bit more detail about the different types of outsole materials which are used and their properties so you can make a more educated choice.

Single Density Polyurethane:
Temp. Range from -10º to +150º
Abrasion rate: 100-150mm³
Advantages:
Very low weight
Good comfort
Good resistance to chemical agents and hydrocarbons
Good grip
Disadvantage:
Low resistance to strong acids
These however can be divided in 2 kinds:
Polyether: is more resistant to Hydrolysis
Polyester: has better fuel/oil resistance
Double Density Polyurethane
Temp. Range from -10º to +150º
Abrasion rate: 60-80mm³
Advantages:
Average Hydrocarbons resistance
Acceptable slip resistance (harder outsole)
Good wear comfort (softer midsole)
Disadvantages:
Low resistance to strong acids
Midsole more receptive to hydrolysis
Thermoplastic Urethane:
Temp range from -20º to 100º max
Abrasion resistance: 50-80mm³
Advantages:
Very good slip resistance
Flexible
Good hydrocarbons resistance
Disadvantage:
Not very resistant to high temperatures
Mono Density Rubber:
Temp. Range from -30º to 300º
Abrasion resistance: 100-130 mm³
Advantages:
Temp resistance (with additives)
Great penetration/slip resistance
Resistant to fuel/oil/chemicals
Resistant to hydrolysis
Disadvantages:
Very heavy
Less flexible at lower Temp
PU/Rubber
Same properties as rubber for the outsole
Same properties as PU for the midsole
Advantages:
Lighter than Mono rubber
Benefits of rubber outsole
Softer than mono rubber due to PU midsole
Disadvantage:
PU midsole has weaker resistance in environments where mono rubber is needed (Heat, chemicals etc)
Heavier than PU
More expensive
Overall the choice for outsole is based on the conditions you work in but PU can get you a long way where the properties of rubber aren't really needed.
Terminology:
Abrasion resistance: this is the amount of mass lost over 1000 cycles of abrasion
Temp. Range: minimum/maximum temperature range in Degrees Celsius
Double Density: this can be a different density midsole and outsole or 1 piece outsole with different densities (this requires a special injection mechanism that can handle two different densities PU)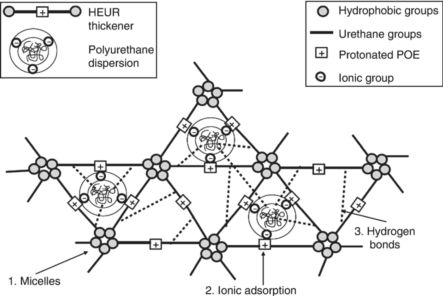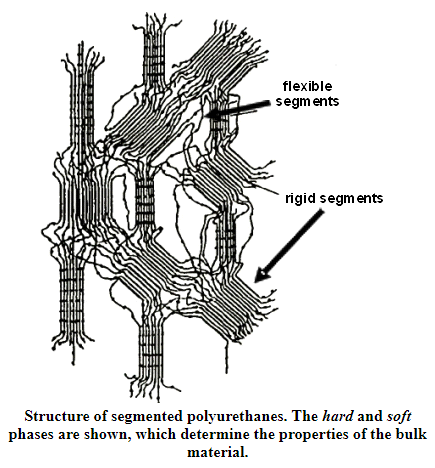 The percentage of rigid and flexible segments of the polymer will have different outcomes:
– More rigid segments means more hydrolysis resistance but less flexibility (so cracks easily form)
– More flexible segments means comfort and flexibility/grip but faster hydrolysis
The rigid parts are formed by heating the mixture and adding sulphur. This creates cross links between the polymer chains. This process is called vulcanization.
Hydrolysis is a reaction in which the water molecules cause a cleavage of chemical bonds within a material
In other words: Hydrolysis is the process in which a material breaks down when it comes into contact with moisture
Hydrolysis of Polyurethane chains includes:
Stage 1. The chemical cleavage of ester and urethane bonds without molecular weight loss,
Stage 2. Is when the ongoing cleavage results in a reduction of molecular weight because of small particles separating from the Polymer bulk.
This process will result in catastrophic levels of polymer degradation connected with the mass reduction (Pitt, 1992)
Summary of the Process of Hydrolysis:
Water acts a nucleophile (donator of a electron) and its oxygen reacts with the carbonyl carbon of the urethane functionality
After rearrangement an alcohol is release
After a second rearrangement CO² is released and a lower weight amine remains
Due to the release of CO² (a gas emitted from the polymer) the reaction is irreversible
This results in permanent degradation of the polymer structure.
Influencers for Hydrolysis:
– Temperature
– Relative Humidity or RH (moisture in the air)
– Materials used (PU, Rubber etc..)
– Water and breakdown residue present inside the material
Temperature
Increasing temperature speeds up chemical processes (like a driving factor for the process in question) since temperature adds more energy to the process.
Another reason temperature plays a big role on hydrolysis is due to the fact that warm air can contain more water than cold air per cubic metre:
30º air at 80%RH holds 24gr/m³ and
20º air at 80%RH holds 13.6gr/m³
This can explain why hydrolysis goes faster in warm countries even if humidity is the same %.
Relative humidity
PU is a porous substance, enabling moisture in the air to work its way into the product so higher humidity means more water to react with the PU structure.
Based on the previous explanation about warm air the volume of moisture in the air is a better measure than RH but is much harder to determine.
Materials Used
Different materials affect hydrolysis in different ways so see beginning chapter about the different materials.
Water and breakdown residue
A certain amount of water is needed for the fabrication of PU but if too much water is used , hydrolysis will occur faster.
Excess water is used when manufacturers want to lower production cost or when a bad mixture has been made.
During hydrolysis the polymer will degrade. The breakdown products created accelerate the reaction further.
– After a certain period the environment is less important due to the increasing amount of breakdown products inside the materia
This is called an "autocatalytic" reaction: the reaction feeds itself
Temperature and Humidity example
The influence of Temp and humidity goes beyond the realm of PU
A study on the decay rate of paper led to the following observations :
Lowering storage temp from 24 Degrees Celsius to 2 degrees Celsius while keeping RH at 50% changed the decay time from 25 to 700 years
Lowering RH from 60% to 20% with a constant temperature of 21 degrees Celsius increased the time from 30 to 90 years (for reference, the Sahara desert has a RH of 25%)
This supports the conclusion that temperature is a significant influence on Hydrolysis as well and not just humidity alone.
This leads to the following important application of the previous pointers and use them for storage applications.
Before that I will show the effect of storage conditions on the effective lifespan of shoes.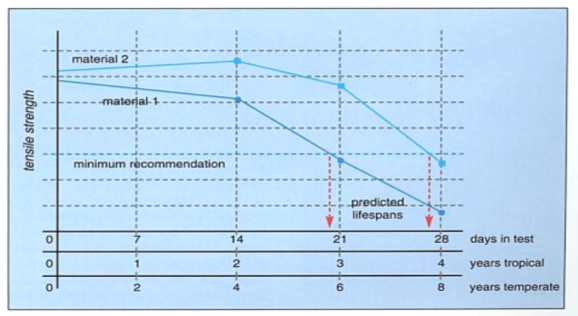 Of course here are huge varieties possible due to how the shoe is produced, materials used etc etc so hopefully this article now showed you the key factors of hydrolysis and you can understand how this graph works and can be influenced.
Now I will give you some practical tips for storing your safety shoes:
– Place a hygrometer if possible to measure RH (image 1)
– Place a thermometer if possible to measure Temp (image 1)
– Keep the storage as cold as possible (even down to 4-5º is good)
– Place moisture eaters/dehumidifier on/near the boxes/locker (image 2 and 2a)
– Make sure the shoe is not wet/dirty when putting it away
– Maintain a strict FIFO principle
– When buying cheap shoes check MFG date
– Buy shoes with MFG date older than 3 months only if the shoes will be used immediately.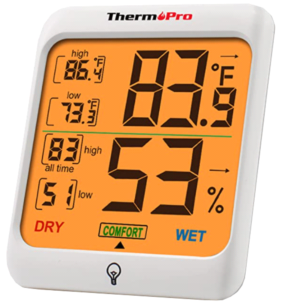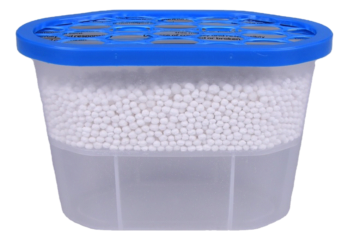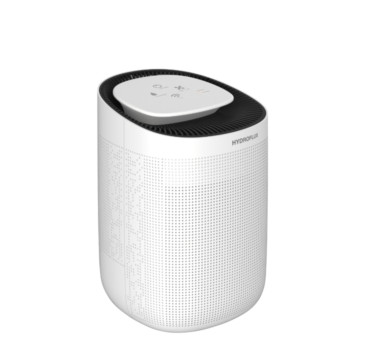 For a locker I would advice to buy the disposable one since they can be bought for a few dollars in the supermarket so very accessible to a worker
For storage of the product itself I would suggest to place an electric and reusable dehumidifier in the storage area. There are different sizes available and range from 40 to a few hundred dollars.
So a small investment can drastically increase the lifespan of your shoes or any PU product for that matter.
NOTE: if there are people working in the storage area then a very dry air can lead to lung irritation and breathing difficulties.
About Nitti
Based on this article I will now highlight our features and let you as reader draw your conclusions about the quality and benefits of our Shoes:
– Single density BASF PU (Highest grade in the market)
– Polyester PU for better fuel oil resistance (due to our mixing expertise we combine the benefit of Polyether with Polyester PU
– Expertise in mixture process (less catalysts in the polymer)
– Fully owned factory with in-house QC (no diluting and flex tests)
– Acclimatized production environment (low temperature and humidity)
– High comfort (single density PU)