Nitti: Safety, Without Compromising Comfort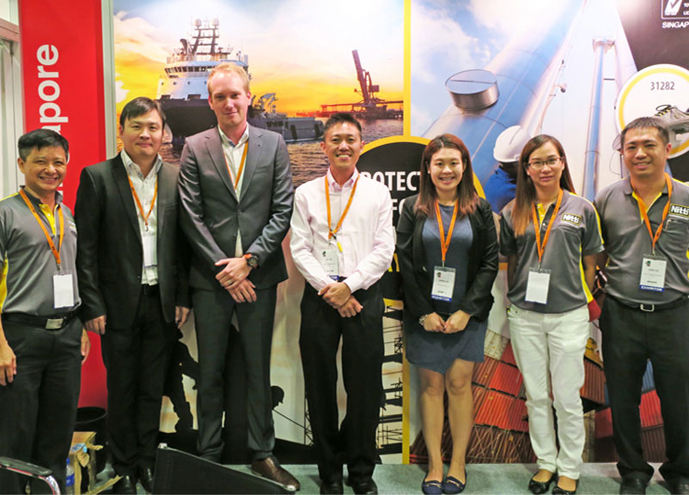 According to a report by the Workplace Safety and Health (WSH) Institute there were 12,351 workplace injuries in Singapore in 2015. The top incident types were slips, trips and falls for major (43%) and minor (24%) injuries. It is therefore no surprise that the global industrial protective footwear market size is expected to reach US$ 6.56 billion by 2024, according to a report by Grand View Research,Inc. The substantial growth prospects of the market can be attributed to the rising number of worker accidents across global organizations. Foot protection manufacturers strive to make better, safer footwear to reduce these figures. Manufacturers who are successful in this highly competitive market take into consideration that employees in a work site spend long hours on their feet and demand comfort as well as safety.
Industrial protective footwear maker Nitti, believes that while meeting Occupational Health & Safety Division (OSHD) regulations is a priority for employers, providing comfortable protective shoes should also be of importance.
FIRST STEPS
Nitti's story begins with its parent company, whereby CEH specialises in the manufacturing of polyurethane related products and equipment. It was a natural progression to manufacture work shoes and boots in order to provide workers with safer, sturdier and more supportive footwear that was also affordable.
Since launching its shoes in Singapore in 1996, the company gained significant market size in Singapore. It is currently increasing its marketing activities in this region to further grow its recognition within the ASEAN region.
 According to Nitti's Sales Director, Mr. Tim Harmsen, "We try to keep our design comfortable and durable. We pick comfort over fashion. The shoe is designed to be comfortable and durable. On average a worker spends 12 hours a day on his feet. Hence we inserted a wider toecap to ensure that the feet and toes are not cramped in. If one is working for just a few hours, it will not make a difference. However if you work for longer hours, then it does. Furthermore, we use a breathable lining, which ensures your feet do not get too hot. Overall, our priorities are to deliver shoes with excellent protection, comfort and durability."
FROM DESIGN TO RETAIL
With the large selection of safety shoes and boots on the market today, manufacturers are rapidly innovating comfort and quality technologies, one step ahead of their competitors, taking into account consumers' feedback that helps manufacturers improve their designs of safety footwear.
"The first step in implementing new technology is to focus on listening to the market. We need to know what changes customers want in order to make the shoes better and more comfortable. Improvements to design that is based on customer feedback will help our channel partners sell the shoes better and create stronger and long lasting relationships with the customers. From that perspective, technology then comes into play to answer the question, 'How do we achieve this?'" said Mr. Harmsen.
 While the shoes are designed in Italy, Nitti's goal is to use the latest manufacturing innovations to create a largely automated process. According to Mr.Harmsen, the company is able to better serve its customers by leveraging recent developments in robotics. Explaining Nitti's process of making protective footwear, Mr. Harmsen said, "In the past we had a lot of manual labour. In the recent years, we have started to follow the Kaizen strategy where we make everything more efficient. Automation is one of the steps in that new strategy. This meant decreasing our manual labour and investing into new automated technologies."
Besides these new improvements, quality checks are key to deliver the best possible end product to Nitti's customers. "When the leather arrives we do our first quality check. We do a thorough check on the leather for inefficiencies, before moving it to the production line. Thereafter the leather gets cut and the workers sew the uppers together, which till to-date is still a manual job. Once this part is completed, it is all robotics and machinery. The PU injection and the finishing are both fully automated processes," said Mr.Harmsen.
"Although it is a move away from the traditional shoe making process," acknowledged Mr. Harmsen, it becomes more productive and cost efficient. You make less human error and it significantly decreases the production lead-time," he added.
It is not enough to make a great product for customers in today's competitive market. Nitti strives to offer excellent after-sales service by providing six months of warranty. "Any quality problem arising within those six months will be replaced one-on-one. In order to offer excellent customer service, my distributors do not need to ask me for replacements. They can make the decision themselves. We provide them with this authority. We want to excel in our customer service and prevent delays in the process which might upset our customers," said Mr. Harmsen.
The price for the classic series range from S$44.50 to S$80. The new 'Commander' series will be priced slightly higher. According to Mr. Harmsen, it is not only the price that manufacturers use to compete with one another, but more importantly the quality and after-service level. "There is not that much of a price difference between direct competitors. For instance, if you were to compare other brands with Nitti in the Philippines, the pricing is similar. However it is the attention given to the customers that creates the competitive edge."
PUMPED UP KICKS
Nitti is currently concentrating on new product offerings. According to Nitti's Sales Manager, Desmond Yeo, the company is working on a response to trends that it is witnessing, "More and ,ore of the younger workforce is coming into the market. There is a need for trendier, lighter footwear because the young people prefer to wear more colourful, lighter shoes. Right now our designs are black, heavy and classic. The demographics are changing and hopefully we can have a shoe for them in the near future. That's why we came up with the 'Commander' series. It is sportier looking, comes with a lighter composite toe cap and a lighter mid-sole that is made of Kevlar," said Mr. Yeo.
The evolving features are bound to appeal to the overall scope of protective footwear users, regardless of age, because comfort and quality in a pair Nitti's footwear ensure that workers can put their feet up at the end of a long day with ease.
PARTNERSHIPS ARE KEY TO ASIAN MARKETS
With 20 years of experience in Singapore, Nitti has successfully established brand loyalty in the country. "Singapore is a mature market where customers recognise quality and durability. People who want to buy comfortable and high quality safety shoes are willing to pay a higher price. The trend is moving into newer models like the sporty style of shoes. The developments in Singapore are much further ahead than other countries in the region," said Mr. Harmsen.
According to Grand View Research Inc., the Asia Pacific industrial protective footwear market is estimated to witness a substantial growth over the forecast period, growing at a compound annual growth rate (CAGR) of over 8.5% from 2016 to 2024. Health and safety practices have been increasingly implemented in order to reduce workplace fatalities. This is expected to create a surge in product demand over the forecast period.
However, in many Asian countries safety laws and regulations have not been passed yet, which has proved to be challenging for the company. "There is nothing set by the government that requires you to wear safety shoes. So you can do your work in slippers for that matter, no one is demanding that you wear safety shoes. The next level is compliance markets where people require safety shoes. However it does not matter if they are durable or of good quality. All they require is a shoe at the cheapest price, because they just need a safety shoe that follows basic minimum standards. There is no interest in quality, safety and durability and so on. They buy shoes just to show that they are following the safety standards set by the government or other organisations," explained Mr. Harmsen.
As a result, the company has adjusted its one-size-fits-all strategy accordingly, "In the past the strategy we used in the other Asian countries was identical to the strategy we used in Singapore. How ever, Singapore being a mature market, we cannot use the same strategy for Sri Lanka, Malaysia, Philippines, or Thailand, where the level of development is lower. Therefore we created personalized strategies for each respective country. The new approach focuses more on educating and less on direct sales. With less distributors, we work with fewer customers in those countries so we that can give full support. There is a clear distinction between how we operate in Singapore and what we do abroad," shared Mr. Harmsen.
According to Mr. Harmsen, identifying the right distributors is of the utmost importance. Since the company does not sell its shoes directly, potential partners are evaluated carefully. "The first step is to figure out if the distributor fits our way of thinking. We check their connections to the market and their knowledge of the region. We also assess their relationship to these companies and the barrier of entry to these companies. In order to have an established relationships, our partners need to be committed. They need to be willing to become a channel partner, not just a distributor, which requires the sharing of information. Forecasting is a good example. If the potential distributor is unable to provide me with any information for the following month, we are unable to create a sustainable relationship based upon growth figures. All these small details determine whether the distributor will be suitable or not. This is particularly important outside of Singapore. In Singapore we are pretty well established. However in the other ASEAN markets, it becomes very important that we work with distributors who are committed to Nitti,"explained Mr. Harmsen.
Nitti strives for growth and a symbiotic synergy when working with local distributors. "I want to work much closer with my distributors. I do not want them to be afraid to share their customers with me. We do joint visits, for example, where I can do sales presentations. I can do the whole sales pitch but when it comes to pricing I will step out with discretion and my distributors will step in. I demand high service from them, and they can demand the same from me. Therefore, it is not just a customer/client relationship. It is much more a partnership where you both work towards growth," added Mr. Harmsen.
Mr. Harmsen highlighted Sri Lanka as one of the compliance markets where the company's distributors have to work hard to establish brand loyalty. "Cheap shoes are the norm, and that is where education plays a very important role. In Sri Lanka, our distributor really needs to educate our customers on the benefits of our shoes. Even though customers will say 'we need it cheap', in the long run it can still be cheaper to buy the Nitti shoes. Take for instance, if you buy a very cheap brand or China-made shoe which lasts one to two months, you still need to buy six pairs a year. You can easily run on a single Nitti pair in the same period of time. Unfortunately the mind-set is still very much on short-term thinking."
On the other hand, Nitti's efforts in the Philippines are finally starting to pay off and the country is becoming one of the company's top markets. "The Philippines has moved away from being merely a compliance market, hence safety, durability and comfort starts to play a more important role. Pricing differences are not the main focus anymore. The moment we can convince them that we offer better service, short lead times and an excellent product, that is when a market changes and our brand will thrive. That's what I mean with when we convert our customers for example, in the Philippines, they do not change back to another brand," noted Mr. Harmsen.
Mr. Harmsen hopes that once the economy in Sri Lanka improves, Nitti will fare better in the Sri Lankan market. However the company continues to look for new emerging markets like Vietnam, Myanmar and the Middle East.
BUILDING BRAND AWARENESS
Nitti is working on establishing a design identity that brings clarity and recognition to Nitti's footwear aesthetic. "Our designs are very classic. If you are working in the industry, you will definitely see the difference. However it does not stand out just on the outside. We are working on now. The Nitti brand needs to become directly linked to safety shoes. In people's minds. It is the small things like making small changes to our shoes. Our new insole has the Nitti logo printed on it, something our previous design did not have. Small things, but it definitely makes a difference for someone wearing that shoe on a daily basis. Branding includes much more, like providing our distributors with accessories or branded merchandise, advertising campaigns, store design, signage and also campaigns directly focused at the end-users, even though we do not sell to them, we do need to target them directly," said Mr. Harmsen.
In addition to its Asian expansion plans, the company also aims to diversify within Singapore. "We are very strong in construction. So we need to diversify into different sectors and into the tender business as well. There are distribution channels and there are tenders which are two different ways of approaching a market.We are not active in tenders at all. It is an area we need to look into," concluded Mr. Harmsen.