Safety Standards Explained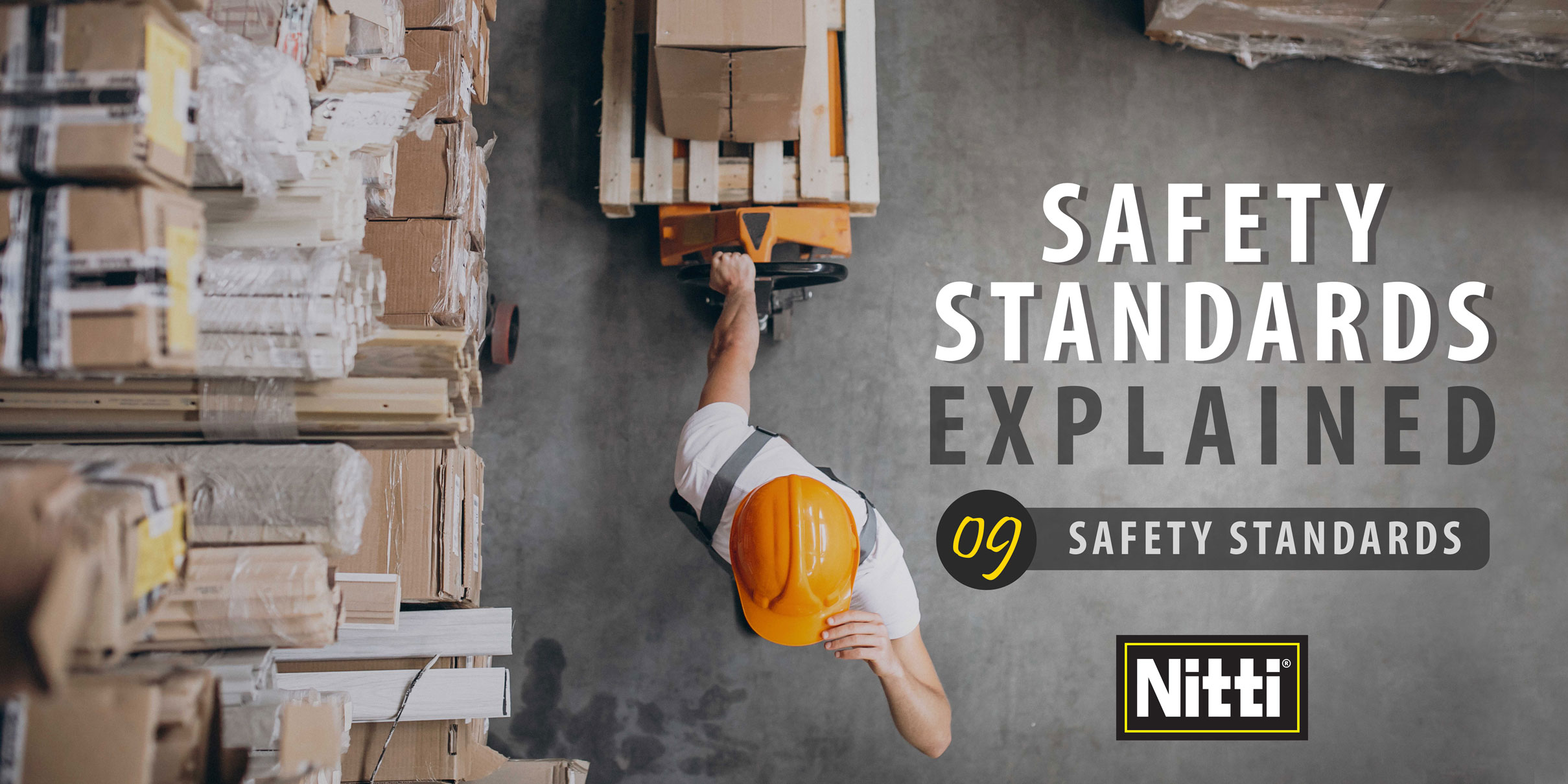 We are sure everybody has seen the icons in the different safety shoes brochures, read the terminology like ISO standards and International safety standards compliance and heard about the accidents that can happen at the workplace.
High quality PPE can mean the difference between a minor accident or a fatal one, so it is very important to make a well thought decision as to which PPE to purchase for your company and/or workers.
Every salesperson for PPE will say that their product meets the international safety standards but hopefully after reading this article you will not only know what the safety standard measures are about but also how quality can determine HOW LONG the product will keep meeting that standard.
Before we start with explaining the safety standards, let's see which standards you will encounter the most:
CE EN 20345-2011
This standard is most common in Europe and Asian countries and is sometimes defined as Conformite Europeenne (French for European conformity).
This standard defines the guidelines and criteria a product must meet at a bare minimum.
ASTM
This stands for "American Society for Testing and Materials" and is an international standards organization that develops and publishes technical standards and/or certifications that a product must meet minimally.
In the end there is not so much difference between and adhering to either the CE or ASTM standard, both will usually also ensures adherence to the other.
Now lets dive a little deeper into the specifics of the standards:
Compression resistance
Safety standards minimum requirement is 15.000N but most people have no idea what 15000N actually means.
To put this in perspective 15.000N equals to 1500 KG resting on the toecap. As comparison an average 4-door sedan weighs 1300kg.
How well the toecap lives up to this expectation depends on the quality of the material that is being used and whether or not there have been accidents before because there could be mini fractures in the metal.
Impact Resistance
Safety standards minimum is 200KJ or equal to a 20kg weight dropped from 1 meter on the toecap.
Reason they chose this is because Worker protection laws in European countries don't allow the worker to lift more than 20kg and when you carry an object in front of you it's roughly 1 meter off the ground. If the shoe had to endure an impact the safest choice would be to replace the shoe for the same reason as before: it's hard to tell whether the shoe suffered mini fractures and how it will perform when exposed to another similar incident.
Penetration resistance
Safety standards minimum is 1100N if the penetration occurs on the mid-plate material.
Reason we say that is because a lot of cheap brands choose for a 3/4 mid- plate or half a mid-plate that leaves the heel exposed.
Another thing to look for is the material that is being used: if it's regular steel the PU will aggressively corrode the metal of the plate. This process will be delayed if stainless steel is used and even better if they coat the stainless steel with an epoxy wax.
Since you will not be able to look inside the shoe if the plate is still good the quality of raw materials is of utmost importance here.
Slip Resistance
Slipping is one of the most common causes of workplace accidents but shoes alone should not be seen as the main solution. First slippery areas should either receive special mats or the situation improved. An emergency solution could be to throw sand over oil spills to prevent slipping.
Stairs should always have railings and jagged edges or grated surfaces for better grip.
There are 3 rankings for slip resistance:
SRA—tested on ceramic tile wetted with diluted soap solution
SRB—tested on smooth steel with glycerol
SRC—tested under both conditions stated above
Nitrile rubber has a better slip resistance than PU rubber but the downside is that it is much heavier.
Antistatic:
Static electricity is build up in the body through friction, e.g. clothes rubbing on the body (especially wool and some synthetics).
Antistatic shoes are in the conductive range of 100KOhm to 1GOhm (100 thousand to 1 Billion Ohm).
The function lies on the principle of conducting the static away from the body into the ground.
Main reason for antistatic feature is if the worker is in an explosive environment that there can never be a spark created to set off an explosion. This could be in a gas pump with oil fumes or in a haybarn or sawmill with lots of fine dust particles.
This should not be confused with an ESD shoe which is designed to protect delicate circuitry. The (smaller) conductive range for ESD shoe is from 100KOhm to 35Mohm (100 Thousand to 35 Million Ohm).
So from this you could say that an ESD shoe is always anti static but an anti static shoe is not always ESD compliant.
I see often end users using ESD shoes who have nothing to do with circuitry so a sales representative who needs to get rid of excess stock will often use the overlap to sell an ESD shoe which (if good quality) is much more expensive to make.
Do visit our website frequently as our regional sales manager Raimondo we will provide more updates and articles on ESD, anti-static and EH.
Oil resistance:
Now we moved from the realm of safety to the realm of durability.
This indicates how resistant the shoe as a whole is when in contact with oils. Cheaper PU will be affected by the oil which weakens the bonds of the PU and same goes for the Upper, the lining and any other part of the shoe.
Chemical resistance:
This refers to the same as with the oil resistance but now for general diluted chemicals.
When real hazardous chemicals are being used (strong alkalids or acids) nitrile rubber is often required (rubber boots like rain boots).
For detailed information regarding chemical resistance and our shoes do contact us directly. As this is very specific and fully depends upon your personal situation and work environment.
Heat resistance:
Like the name says how well the shoe can withstand when in contact with higher temperatures.
PU only has a short contact moment of up to 150 Degrees Celsius.
When it meets HRO standard (Heat Resistant Outsole) it can withstand 300 degrees for up to 60 seconds.
Abrasion resistance:
This measures how well the fabric can withstand a constant rubbing. With textile uppers becoming more and more popular in the safety footwear industry this can be a higher risk for penetration through the upper and lesser durability of the upper compared to leather uppers. Within leathers buffalo leather has a higher abrasion resistance value compared to cow leather.
These are the basic standards but there are some others as well which are more focused on certain industries:
WR: Water Resistant (does not apply to rubber and polymeric footwear which are always water resistant, like rain boots).
HR: Heat Resistant outsoles can withstand temperatures of 300 degrees Celsius for 60 seconds
CI: Insulation against Cold and provides insulation against cold for 30 minutes at -20 Degrees Celsius
HI: Insulation against heat and provides isolation against heat for 30 minutes at 150 Degrees Celsius
ESD: Electro Static Discharge (see also above with antistatic) is designed to protect delicate circuitry and prevent explosions. It must meet ESD CEI EN 61340-5-1
Conclusion:
These standards are measured by sending samples to the factory for testing. This opens the path for manufacturers to send in higher quality samples to receive certification and produce the rest at a much lower standard of quality.
So equally important is that a factory has a ISO certification which stands for International Standard of Operation and dictates that their method of production is uniform and the quality as equal as possible. Of course this doesn't mean that they will so the reputation of the manufacturer is equally important.