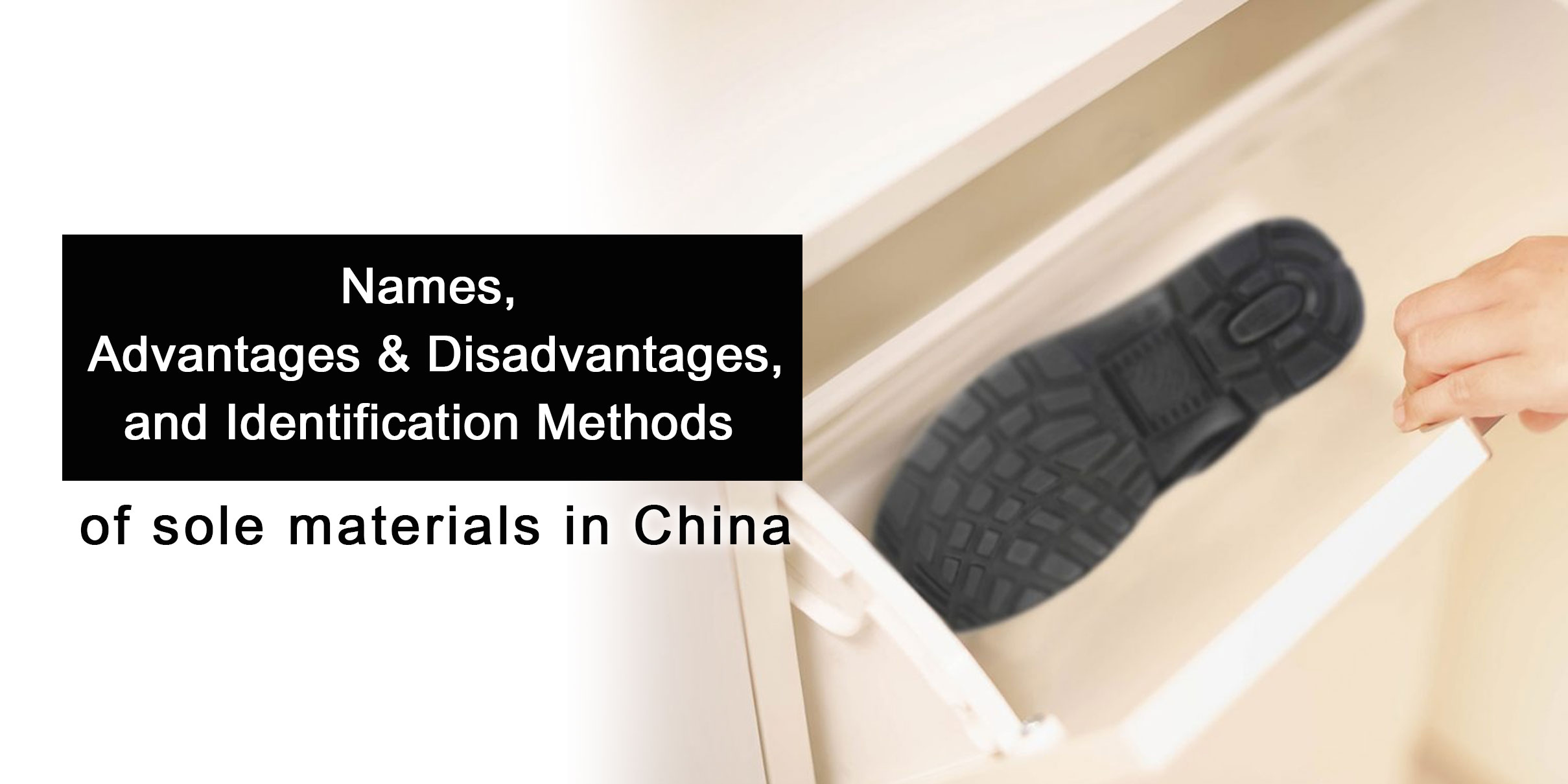 Common domestic shoe materials and combinations:

What is RB
RB is the abbreviation of rubber (rubber) in English. Rubber includes natural rubber and artificial synthetic rubber. Rubber: It is used for outsoles of various sports shoes. It is the wear-resistant rubber outsole used in outdoor hiking shoes. The Vibram sole is more well-known.
What is PU
Polyurethane is a high-density and durable material based on foam rubber that is often used in the midsole of the back palm.
What is PVC
Polyvinyl Chloride, the natural color is slightly yellow translucent, shiny. Whitening will appear at the inflection.
What is TPU
The full name is Thermoplastic Polyurethane, which is a linear polymer material produced by the joint reaction of diisocyanate, macromolecular polyol and chain extender.
What is TPR
Thermoplastic Rubber (Thermoplastic Rubber) is a material with both rubber and thermoplastic characteristics. It has the properties of rubber and can be processed and recycled as thermoplastics. It can be injection molding, extrusion molding, and blow molding with ordinary plastic molding machines. The molding method is used to make rubber products. Note: TPR is synonymous with low-end TPE on the market. In some places, if it is SBS-based TPE, it is called TPR.
What is TR
The synthetic material of TPE and rubber has the characteristics of many patterns, good hand feeling, bright color, high finish, high technical content, etc., and can be 100% recycled, which is an environmentally friendly sole material. Toughness brother Note: According to the truth, TR should be the abbreviation of TPR, here it is TPE, then it should be TPE based on SEBS, or it should be TPV (PP/EPDM material), in fact, TPV was originally called TPR.
What is EVA
EVA: Ethylene Vinyl Acetate-ethylene resin acetate fiber. Shoe door crooked supplement, English full name Copolymer of ethylene vinyl acetate in Chinese, Ethylene Vinyl Acetate is a light and elastic chemical synthetic substance.

The combination of sole materials

The combination of sole components RB, EVA, TPU, air cushion and pillar
RB + EVA = MD, RB + EVA + Air Cushion, RB + EVA + Pillar,
RB + EVA + TPU, RB + EVA + TPU + Air Cushion, RB + EVA + TPU + Pillar.
The meaning of MD and EVA outsole
MD: collective term for MODEL or PHYLON flying dragon; Correction: MD is the abbreviation of MOULDED, which means molded EVA combined rubber outsole, but in fact, EVA material may not necessarily be applicable. Toughness brother Note: MD is actually the name of the molding process, but it is customary to become a combination of EVA outsole, EVA is the name of the material.
PHYLON:(commonly known as flying dragon) is a material for shoe soles. It is a midsole used in general shoemaking. It is a mixture made of heated and compressed EVA foam (an EVA secondary high-pressure molded product). It is characterized by light weight and elasticity. And the shock resistance is good, the hardness is controlled by the foaming temperature. The higher the degree of foaming, the softer it is. Usually MD soles generally contain EVA, MD soles are also called PHYLON soles.

For example, MD = EVA + RB = EVA + RB + TPR, and occasionally some shoes are RB+PU and so on.

The advantages and disadvantages of various sole materials and simple comparison

PU (or PR sole) commonly known as: polyurethane sole, generally foamed, is lighter and most wear-resistant, of course, the price is also the most expensive, the sole of PU material is easy to recognize, and it is very light in the hand , The holes on the back of the sole are round.
PVC commonly known as: plastic sole, which is heavier in the hand than TPR, and cheaper than TPR, but the quality is not good, especially in winter, it is easy to break the sole; the characteristic of PVC sole is that there is no injection hole, And there is a smell if you smell it with your nose. If left for a long time, white things will grow. Brother Toughness: People before the 1970s have a deep impression. The slippers worn in the summer are very sloppy and made of PVC in the winter. Of course, the current modified PVC materials can be made and are relatively soft.
The elasticity of the sole of TPR material is better than that of PVC. Hold the sole firmly and fall naturally. If it can bounce, it will be TPR, but the TPR sole is not difficult to age, nor is it very wear-resistant.
The sole surface of TR is very shiny. The sole is harder than normal TPR soles. TR has more injection holes than TPR. The injection hole is very special. Toughness brother Note: According to the truth, it should not be. If the TR bottom is based on SEBS, it should be matte than TPR, and if TPV is used, it will be more matte. It is generally believed that some beef tendon bottoms are made of TR material.
MD bottom, commonly known as: PHYLON, the bottom is a rubber sheet, and the upper layer is high-elastic EVA, which is non-slip and light. At present, first-class brands at home and abroad use this substrate. Resilience brother Note: It is said that it is a first-class brand, it should be outdated, and now new materials are emerging in endlessly, EVA is no longer a good material!
TPU sole. This is a thermoplastic polyurethane elastomer sole. It usually has a brighter appearance and can also be foamed. Generally, the sole is formed by injection molding, which is difficult to grind. This is different from the PU bottom molding method, but the original material is the same, relatively speaking, it is not as good as the PU bottom. Popcorn, a popular sole material, is made of TPU.
The difference between PU and PVC is relatively easy. From the corners, the PU base fabric is much thicker than PVC, and the feel is different. PU has a softer feel; PVC has a harder feel; it can also be burned with fire. PU The smell is much lighter than that of PVC, and the thick PVC smoke has a halogen smell.
Comparison of other weights, materials, craftsmanship, and applications

In terms of weight: RUBBER (rubber) is the heaviest; PU and EVA are the lightest.
Material: PU is expensive, EVA, TPR is moderate, and PVC is the cheapest.
Process: TPR is a molded product, while PVC needs to be processed. ABS is generally a material for high heels, which is expensive and hard.

Application: PVC is mostly used in linings or non-weight bearing parts, or to make children's shoes; PU leather can be applied to footwear fabrics or weight bearing parts. In terms of bags, PVC leather is more suitable. This is because the items in the bag are different from the feet worn in the shoes and will not emit heat; there is no need to bear personal weight. If you want to slip, one is RB rubber sole, all-rubber material, mainly used for skateboard shoes, casual shoes; the other is MD Huailong sole, the bottom is rubber, mainly used for hiking shoes, running shoes.

The identification methods of common rubber materials

Synthetic rubber bottom SBR
Solvent method identification: all solvents are not sticky after being dropped
Burning method identification: thick black smoke, rubber odor, sticky after burning, not self-extinguishing.
Thermoplastic rubber bottom TPR
Solvent method identification: drop point of toluene or ethyl acetate, which will break when folded
Combustion method identification: thick black smoke, the burning place is molten, not self-extinguishing.
Polyvinyl chloride bottom PVC
Solvent method identification: sticky after dropping Cyclohexanone, insoluble in acetone
Combustion method identification: there is a plastic odor when it burns, and it will self-extinguish after leaving the fire; stick a little PVC with hot copper wire, and then burn a green flame.
Polyurethane foam bottom PU
Solvent method identification: dropping any of cyclohexanone, methyl ethyl ketone, and acetone will make it sticky
Combustion method identification: the flame is orange-red when burning, and will not extinguish from the fire.
Nitrile rubber high wear-resistant bottom NBR
Solvent method identification: solvent resistance
Identification by combustion method: there is black smoke and the flame is red.
Ethylene-vinyl acetate foamed midsole EVA
Solvent method identification: solvent resistance
Burning method identification: there are colloidal drips when burning, the flame is white, there is a paraffin smell, and it cannot be drawn.