Under the Skin: All about Leather and its qualities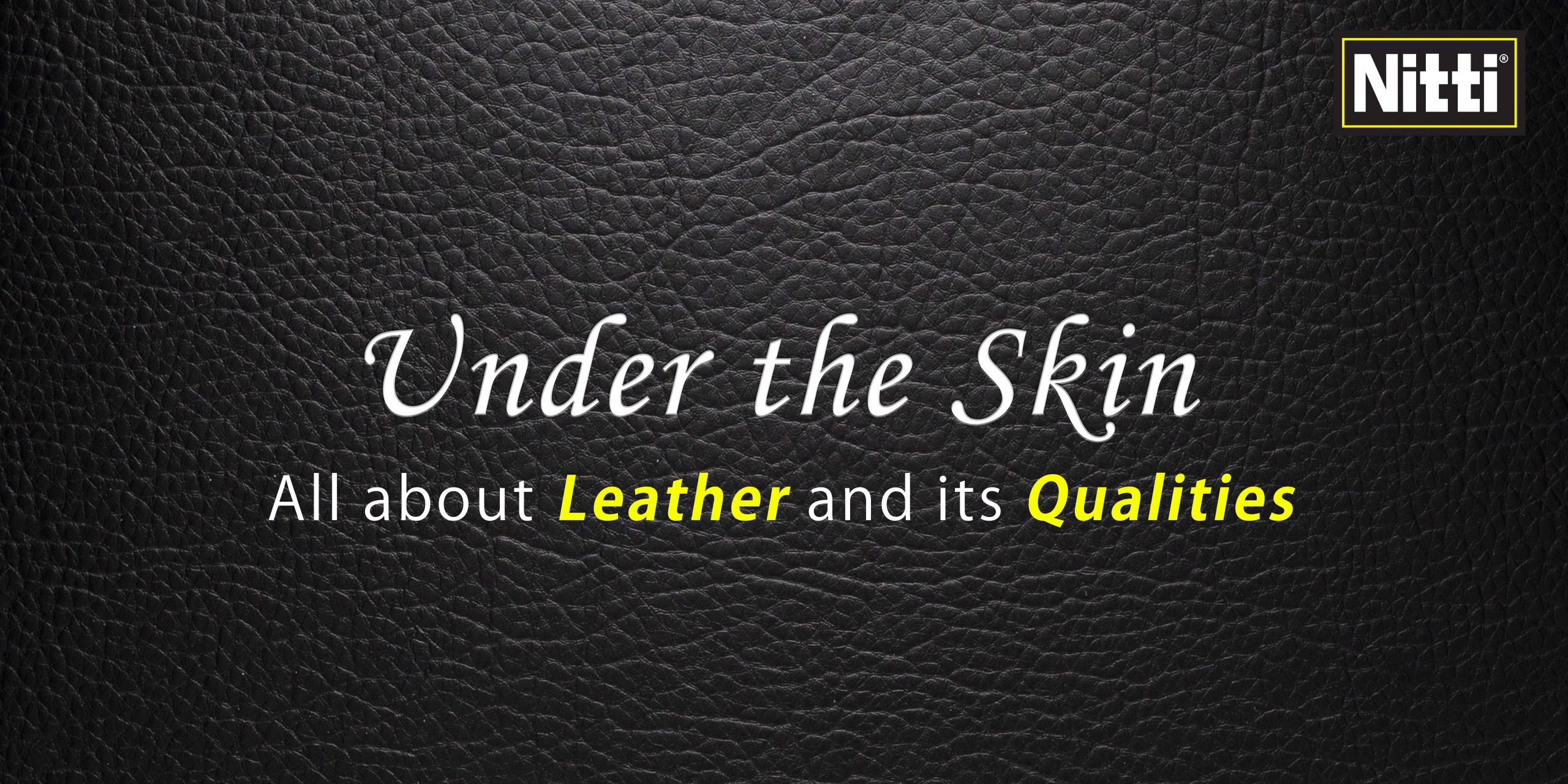 Index
History of leather through the ages
Process of treating leather
Dangers of Chrome Tanning
Kind of leathers and properties
Leather usage dates back to prehistoric times when early man used animal hides to protect themselves against the elements.
Leather softening and preservation was then done by smoke and animal grease.
Earliest crafted leather artifacts were discovered dating from 1300BC.
The first form of real leather tanning used is vegetable tanning discovered by ancient Hebrew settlers (around 3000 years ago).
Different products were then used for tanning depending on region (will explain later).
The Greeks are credited for crafting sandals and other garments out of leather where it quickly spread to the Egyptians and Romans for military use.
During the Middle Ages trade guilds were formed and leather tanning and craftsmanship were industrialized.
Nowadays we use different kinds of leathers with different properties and even artificial leathers
Process of leather tanning
Tanning is the process by which animal hide ('raw hide') is transformed from a material which will rot and decay, into leather. It is one of human's earliest technological activities, dating from at least 7,000 BC.
As mentioned in those prehistoric times they used smoke and animal grease to soften and preserve the leather but then "vegetable tanning" was discovered by ancient Hebrew settlers.
It is done by using bark extracts, leaves, fruits and roots. All these contain the aromatic organic compound "Phenol"
The principle is based on the fact that the tannin molecules will displace the water and replace them. This doesn't dry out the leather nor make it inflexible.
Vegetable tanning is a complex, lengthy process which can take up to two months to complete, consequently vegetable tanning now accounts for only 15% of current leather production. 
First step is preparing the hides by rehydrating it and removing the hairs
The next step is to tan the hide. Historically this was simply done with a series of pits containing different concentrations of tannin. Today this is most commonly done with the addition of drums to speed up the penetration of the tannin. The pelts will then undergo a series of different strength tannins until the process is finished.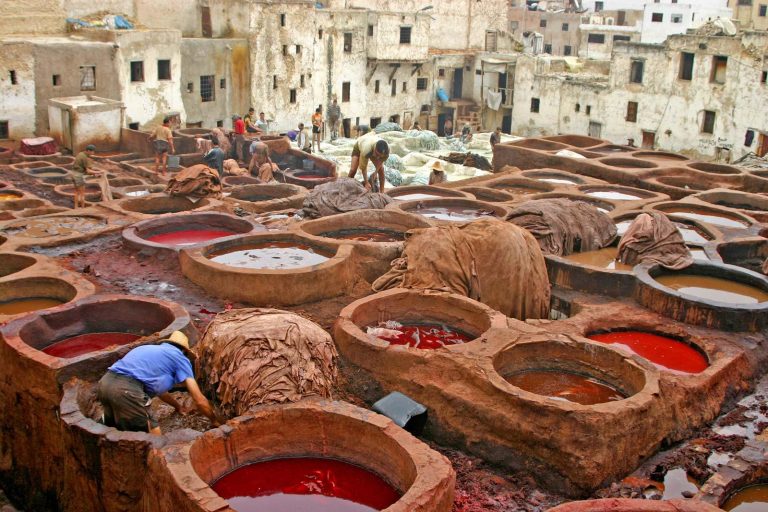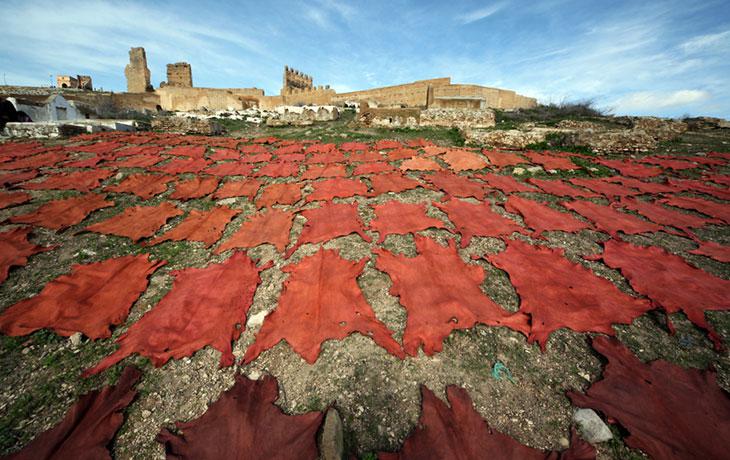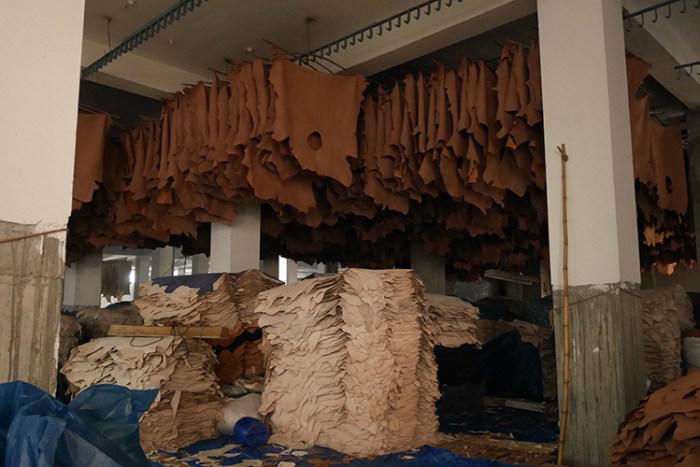 Historically, each country used the materials locally available for its tanning process. For Europe this was chestnut and for the UK this was oak.
A modern era way of tanning is "Chrome tanning"
Chrome tanning was invented in 1858 by a German technologist, Friedrich Knapp and a Swedish scientist, Hylten Cavalin but was first patented by an American scientist, Augustus Schultz.
The Chrome Tanning process can be completed in a day and swiftly became the dominant form of tanning.
The hides are dyed in acid, salt, chromium sulfate and other chemicals. Once the hide has been soaked in the acid salt the leather will be light blue in color. Whatever color desired can be applied from this point.
Today, it accounts for 95% of shoe leather production, 70% of leather upholstery production and 100% of leather clothing production.
Dangers of Chrome Tanning
Sodium dichromate is the principal raw material used in the Chrome Tanning process, it is a carcinogen and causes damage to blood, kidneys, eyes, heart and lungs.
Sun drying and boiling can oxidize and convert the chromium 111, used in the tanning process, into the highly toxic hexavalent chromium, chromium V1.
Nowadays boots can be tested for presence of chromium V1 in the leather associated with skin afflictions when wearing
Biggest impact however is on the workers who are often poorly protected and on the environment due to poor regulations and infrastructure
Health complications include:
– respiratory problems
– Infertility
– birth defects
– lungcancer
– skin problems (rash, dryness and sores)
Environmental impact comes from the dumping of solid waste and the water being used (which is now polluted).
Up to 50% of the total Chromium used finds it way into the environment leading to animals ingesting the chromium and consequently the populace.
25% of the chickens in Bangladesh were found to contain harmful levels of hexavalent Chromium.
Hydrolysis is a reaction in which the water molecules cause a cleavage of chemical bonds within a material
In other words: Hydrolysis is the process in which a material breaks down when it comes into contact with moisture
Types of leather and its qualities
One type of leather is not the same as another and has different feel, quality and properties. There are a few most common types of leather which I will discuss and list their properties
But before that I have to explain 2 different type of dyes: Aniline and Semi-aniline and will explain the anatomy of the hide
Aniline:
Aniline leather used for furniture is dyed inside a special drum. The translucent quality of the dye allows the grain to show through, but it can also show imperfections, therefore only the best quality hides are used for this process. When leather is saturated with dye in the aniline process, the texture becomes a lot softer to the touch. This type of colorful leather may not be the best choice for families with children due it generally not having a protective finish added. Soft leather normally doesn't have any protective finish added because it takes away from the luxurious texture.
Semi-Analine:
Semi-aniline (also called protected aniline) leather is also dyed in a vat and has a small amount of coating applied, giving it slightly better protection against stains and fading than aniline leather.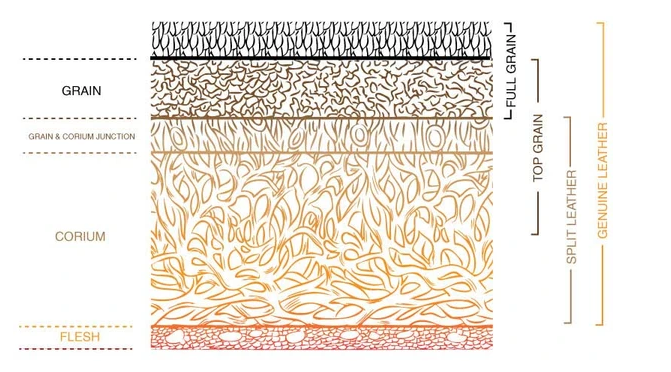 Let's start with the hide, leather hides (rawhide) have to be sliced/split because a hide is generally too thick (between 6 – 10 mm) to be used in almost any type of manufacturing. They are usually sliced to get about 4-5 layers out of them.
The below diagram shows the different layers of leather. Except the manmade Faux Leather they all fall under the category "Genuine Leather.
You can see the overlap of Full Grain Leather and Top Grain Leather, both are top quality leathers that are used to manufacture different products.
As you go further down the line you see how the density of the leather changes, making it less durable and more prone to tears and losing its shape. Here we see the term "Split Leather" being used. It also includes a smaller portion of the "Top Grain Leather" layer. The conclusion is; if you use the strongest, most dense, best, top quality layer, the Full Grain Leather, you would not just label your product as "Genuine Leather" but state that it is of the highest quality leather money can buy, namely "Full Grain Leather".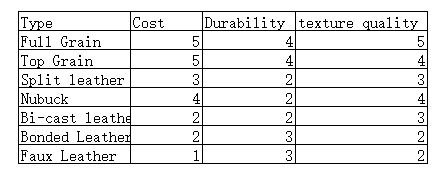 The first layer that is sliced/split off the rawhide is called Full Grain leather. That is the highest quality grade of leather and the part that is the most durable since it actually had to protect the animal from all the elements. It is basically untreated leather. The whole hide is used and only the hairs on the skin are removed. So except the hair removal and a treatment in an analine dye nothing else is done to the leather.
The traditional top-grain leather look is shiny, has natural variations in color (as a hide is a natural product with variations in thickness and quality and, therefore, withstands dyes differently), has a smooth and soft hand (or feel), and natural "pebbling" (the unique bumps that vary depending on from which part of the animal the hide was taken).
Even though you will see the imperfections on the leather because it is untreated this leather will only look and feel better with time. This is the most premium leather.
The next layer will be the Top Grain leather, also known as Embossed Corrected-grain leather, which is still good quality leather.
The hide is buffed to correct any imperfections and an artificial grain applied to it.
Usually top grain will come in 2 grades: Aniline and semi-analine (see above for explanation)
After the removal of the top grain, you get split leather from the remaining part of the hide. This leather is less dense and cheaper than full grain leather. Split leather is comparatively more fragile and gets easily damaged if not handled properly.
As mentioned before, a split is merely the lower layers of a hide underneath the top-grain. A split is still 100% real leather but does not have all of the characteristics of top-grain due to processing differences.
When a split is made, it is initially light-colored and fuzzy or suede-like on both the top and bottom of the hide so that it won't look like top grain.
Because a split has none of the qualities of Full Grain, the split must be processed through various means to simulate the appearance and feel of top-grain leather.
Usually an artificial top layer will be applied and then embossed with a leather grain.
Although the result is still 100% leather, some softness is always lost through the processing procedures and natural variations in color and pebbling are no long evident as these hides are run through a uniform screen.
This is top grain cattle rawhide leather that has been sanded or buffed on the grain side, giving it the appearance similar to velvet and suede. It has a more uniform appearance because the exterior is sprayed with a finishing agent. It is cheaper as compared to full grain leather. However, nubuck furniture is fragile in nature and requires careful maintenance. A waterproofing treatment is mandatory to keep the material looking good.
Bicast leather (also known as bi-cast, bycast, or PU leather) is what most people consider the next step up in quality after bonded leather.
Before a hide is put into production, it is cut horizontally into layers. These layers consist of the top grain (the top layer that maintains the actual surface of the cow's hide where the pores and hair follicles used to be) and then every split below that.
Bicast leather is a layer of split which was too thin or flawed for normal use and that, like bonded leather, is completely sealed on top with a layer of polyurethane.
It is made by gluing a sheet of polyurethane colour to a split grain. It has the appearance of top grain leather, at a fraction of the cost. Bi-cast does not age well. In fact, it cracks and peels when exposed to too much friction. So, make sure that you purchase bi-cast leather knowingly and not because you were led to believe it is real leather.
That being said, bicast can still serve as an economical alternative for people wanting the look of leather without the price.
"Bonded leather" is a cheaper manufacturer's first line of attack in selling you the look and feel of leather for a "great deal." Unfortunately, bonded leather is hardly leather at all—by definition, it has to be only 17% leather. There's no way of telling the level of organic leather material versus chemical, unless the manufacturer chooses to tell you, which is very unlikely..
In other words, it's processed beyond recognition.
To create bonded leather, leather scraps and fibers are mixed together, and then formed into a roll using adhesives or other bonding materials. In fact, the manufacturing process is very similar to making paper.
After the roll is formed, it goes under drying equipment to reduce the moisture content. Bonded leather does has its advantages:
Firstly, it is highly durable.
Secondly, it contains low levels of environmentally unsafe formaldehyde as it doesn't undergo chemical tanning and is therefore also suitable for people with leather allergies.
Lastly, bonded leather is significantly cheaper than real leather.
As the name suggests, this is not real leather. It is man-made leather made from synthetic materials such as plastic and rubber-coated fabric. Faux leather has come a long way as the technology has resulted in great improvements in the material composition. It is now more durable, looks like original leather and is the cheapest type of "leather".
It is however non breathable (being artificial) so can become very hot.